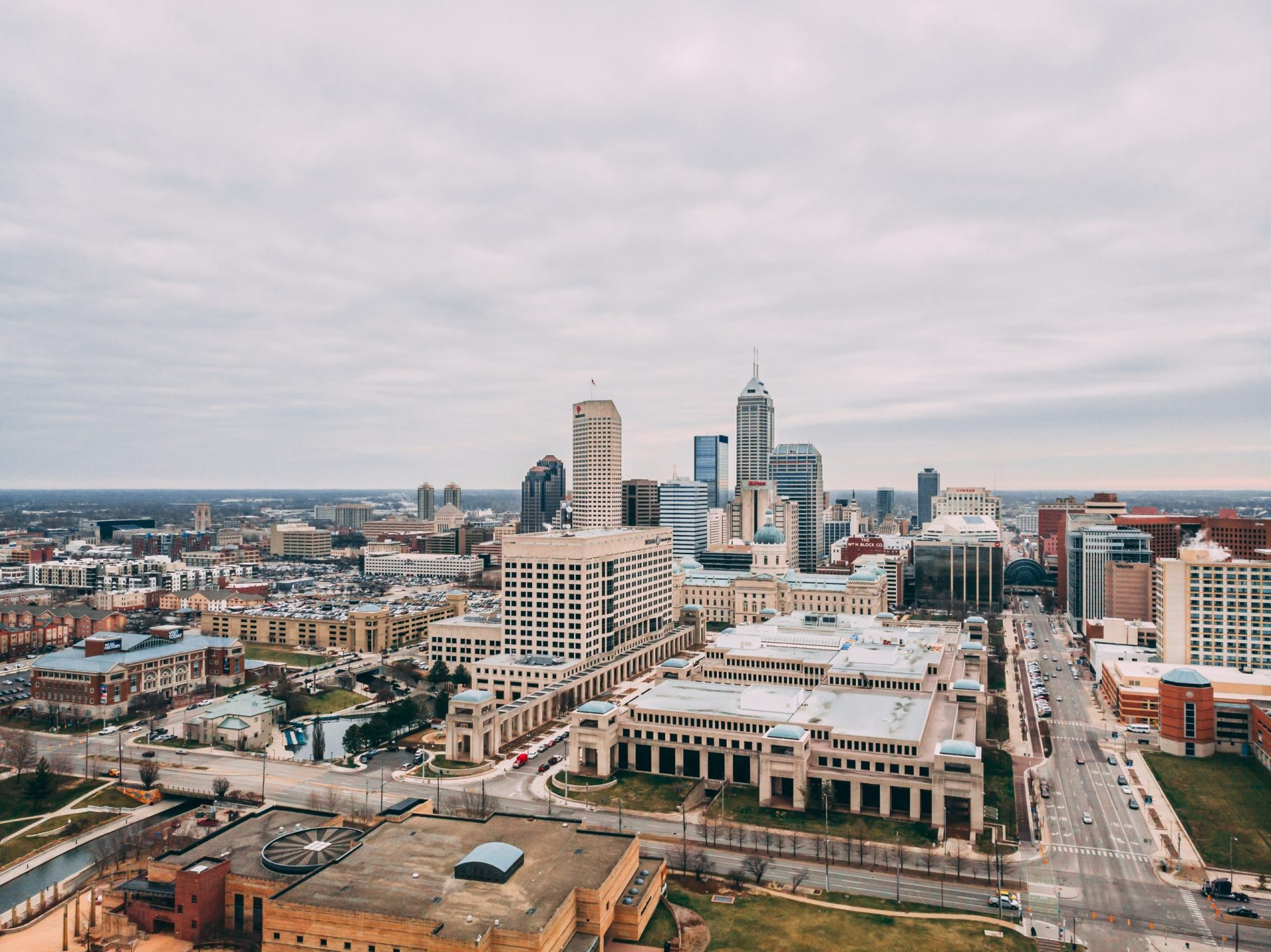 Indianapolis
Solar Installation Experts in Indianapolis, Indiana.
Switching to Solar in Indianapolis has never been easier.
Indianapolis, nicknamed the "Crossroads of America" because of the many interstate highways that run through the city, is a lovely city to visit, a great place to call home, and an even better place to go solar! Indianapolis has a great mix of city and nature, offering something for everyone. And it doesn't matter whether you live in a rural part of town, the suburbs, or right here in the city, going solar can help you save money and keep the air clean.
There is a huge potential to harness solar energy in Indianapolis for both residential and commercial consumers. You may have noticed the large 27,000 panel solar farm as you drive down I-70. Or maybe you heard about General Motors, one of the first major corporations to go solar in Indiana. Utility companies and businesses are taking advantage of the sun and these historically low prices and so should you.
When you install solar panels, you can enjoy energy independence and power your house or business on your terms. Companies of all sizes can benefit from solar energy just as much as homeowners. Icon Solar has installed solar for many businesses throughout the state of Indiana and in Indianapolis including doctors' offices, a veterinarian's office, and a daycare. Icon Solar had also solarized many homes in the Indianapolis area consisting of thousands of solar panels.
Why Should You Go Solar in Indianapolis?
It's easy to see why solar is gaining momentum in Indianapolis and around the rest of the Hoosier state. Indiana currently ranks #20 in the country for the total solar capacity installed in the state. In 2020, Indiana added 65.33 MW of solar bringing the total capacity to 939.1 MW of energy. That's enough to power 111,763 homes in Indiana with clean, renewable energy from the sun!
Over the past 10 years, the cost of electricity has increased by 38% in the state of Indiana and will continue to rise due to aging infrastructure. On the bright side, the cost of solar has decreased by more than 70% over the last decade making solar the cheapest source of energy available on the market. Indiana is projected to add 4549 MW of solar power over the next 5 years which translates to around 15,000,000 solar panels!
We offer flexible financing options for our residential and commercial customers, to ensure that all homeowners and businesses can reap the benefits of the most advanced solar technology available to Indiana with no money down and zero out of pocket costs. With the federal solar investment tax credit and other incentives, going solar has never been more affordable.
As one of the largest providers of solar power in the Midwest, Icon Solar is a proven expert in renewable energy in Indiana. We take care of you every step of the way by delivering innovative, practical solar energy solutions.
Why Should You Choose Icon Solar to install your solar system?
Icon Solar has proudly been serving the Indianapolis area for over a decade. We are passionate about saving our customers money, helping them become energy independent, and reducing Hoosiers dependency on fossil fuels.
At Icon Solar we are driven to give our homeowners the best possible customer experience. Each of our customers is provided with a carefully thought through custom estimate and we only use state-of-the-art technology including Tier-1 solar panels and top of the line inverters.
It is important to us at Icon Solar that we listen carefully to all of our customer's needs, communicate clearly, respond in a timely manner, and most of all, remain transparent from consultation to installation. This is how we became the #1 trusted solar installer for the state of Indiana and why our customers highly recommend us for the job.
In addition to only using the best technology available, our 30-year insurance backed warranty, 12+ years of experience in the field and our simple, worry-free process is what sets us apart from other solar companies.
We serve a majority of Indiana including but not limited to the Indianapolis suburbs of: Avon, Brownsburg, Carmel, Danville, Fishers, Franklin, Greenfield, Greenwood, Martinsville, Mooresville, Noblesville, Plainfield, Westfield, Zionsville.
Home Value with Solar
Did we mention that solar also increases the value of your home? Solar energy has become very attractive to prospective buyers, especially to those who know they consume a lot of electricity. According to a Zillow study, homes with solar-energy systems sold for 4.1% more on average than comparable homes without solar power. The future savings homeowners gain by going solar make the upfront cost worth the investment.