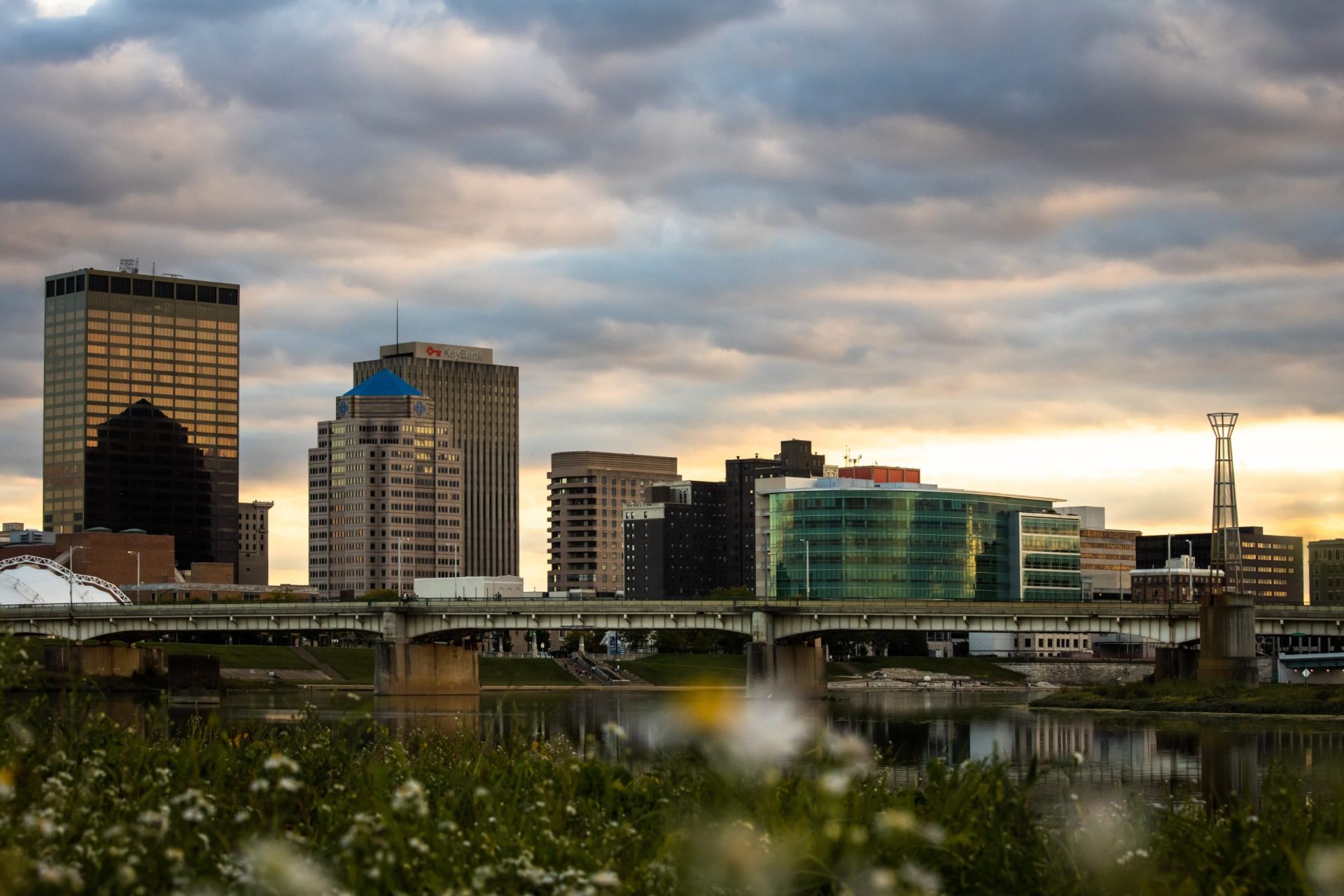 Dayton
Solar Installation Experts in Dayton, Ohio.
"The Gem City"
Switching to Solar in Dayton has never been easier.
Have you been thinking of switching to solar in the Dayton area? If so, you're not alone. Over the past decade, residential and commercial solar installations have exploded in popularity throughout the Dayton area, as homeowners and businessowners have been searching for alternative solutions to traditional energy.
Dayton is not your average mid-size midwestern city. In a 2017 a national survey named Dayton as a top 20 city for STEM jobs, ranking ahead of Columbus, Ohio; Chicago; Los Angeles and New York City. It's no surprise solar is so popular in Dayton, a town booming with jobs in science and technology.
The University of Dayton installed a 4026 solar array with a capacity of 1.26 MW of power. During the 30-year lifespan of the arrays, the University anticipates it will save about $300,000 and prevent 39,000 metric tons of carbon dioxide from being added to the atmosphere.
And if you've ever been on the University of Dayton's campus, you might be familiar with Flannigan's Pub. We installed Flannigan's 16.5 kW solar array on their roof in May of 2017. Over its 25+ year lifespan, this array will produce hundreds of megawatt-hours of clean electricity and will offset thousands of tons of CO2 emissions.
We are passionate about providing the "Gem City" with clean, safe and affordable energy. With our headquarters located in the northern suburbs of Cincinnati, we're located nearby and ready to help you with all of your solar needs.
Why Should You Go Solar in Dayton?
Dayton is a great place to live, and an even better place to start owning your power! As one of the largest providers of solar power in the Midwest, Icon Solar is a proven expert in renewable energy in Ohio. We deliver innovative, practical solar power generation solutions for our residential and commercial customers, and we offer flexible financing alternatives to ensure that all homeowners and businesses can reap the benefits of the most advanced solar technology available to Ohio.
When you switch to solar, you can not only lock in the price of your electricity, you can significantly reduce your electric bill, giving you more control over your hard-earned money. Throughout the state of Ohio, utility costs have been steadily rising over the past decade. Meanwhile, the cost of solar has decreased by 70% over the past decade!
When you go solar you get to enjoy:
30% federal tax credit on eligible installations
Savings – In the 30+ years your solar panels will produce energy, most of our customers will save anywhere from $3-4 dollars for every dollar they spent on their array.
Energy independence
Zero-down and long-term payment plans
Instant savings!
Increased home value
Why Should You Choose Icon Solar?
Icon Solar has proudly been serving the Dayton area for over a decade. We are passionate about saving our customers money, helping them become energy independent, and reducing "the Gem City's" dependency on fossil fuels.
At Icon Solar we are driven to give our homeowners the best possible customer experience. Each of our customers is provided with a carefully thought through custom estimate and we only use state-of-the-art technology including Tier-1 solar panels and Enphase Microinverters.
It is important to us at Icon Solar that we listen carefully to all of our customer's needs, communicate clearly, respond in a timely manner, and most of all, remain transparent throughout the entire solar journey. In addition to only using the best technology available, our 30-year insurance backed warranty, 12+ years of experience in the field and our simple, worry-free process is what sets us apart from our competitors. 
We serve a majority of Indiana including but not limited to the Dayton suburbs of: Beavercreek, Bellbrook, Brookville, Centerville, Cedarville, Fairborn, Huber Heights, Kettering, Miamisburg, Moraine, Oakwood, Riverside, Tipp City, Troy, Vandalia, West Carrolton, Xenia, and Yellow Springs.