'Tis the season for home improvement shows at convention centers and meeting spaces around the country! It's the beginning of the year and everyone is heading out to home improvement shows looking for the best ways to invest in their homes. We may be experts in solar power, but solar panel companies should be your first stop. Whether you are interested in saving thousands on your electric bill or reducing your carbon footprint, solar panels give one of the best returns on your investment of any change you can make to your home. Take our advice, and be sure to ask these five questions, too.
1) Tell me about your experience.
Experience typically correlates with quality of work. The more experience, the better work they do. But, don't let that be your only question here; see if you can get to know the company and what they stand for. Ask: how many installations have you completed? Are you certified? Do you belong to any industry organizations? How are customer complaints handled?
At Icon Solar, we have hundreds of installations under our belt. Our team of experts includes NABCEP-certified professionals, installers with years of experience and hundreds of installations, and we are Green Umbrella, Green Energy Ohio, and U.S. Green Building Council members, keeping us at the forefront of new solar technology and developments. We are passionately driven to save our customers money (lots of it!) and committed to full-circle customer service for a worry and hassle-free solar journey. (Now, that was a good answer!)
2) What will my home solar system look like?
No home solar system is exactly the same. There are a variety of manufacturers, equipment types and warranties. Your solar array will depend on roof size, energy consumption and any design requests. It's important to know what type of system you'll need, if you can customize your design and what the actual product looks like.
At Icon Solar we use black panels with black frames designed to match rooftops; they're much more attractive than typical blue cell panels you may picture when you think of solar panels. Plus, our team of experts works with each customer to create an array that meets your energy and design needs.
3) What kind of value will solar panels add to my home?
Common reasons for home improvement are to make your home more functional, more luxurious or change its style. Another big reason is to add value. If that's part of your interest in going solar, you'll be very pleased! Solar panels do that and then some. For every $1 in electric bill savings (and trust us, you'll save a lot!), value increases by $20, adding tens of thousands of dollars to the value of your home.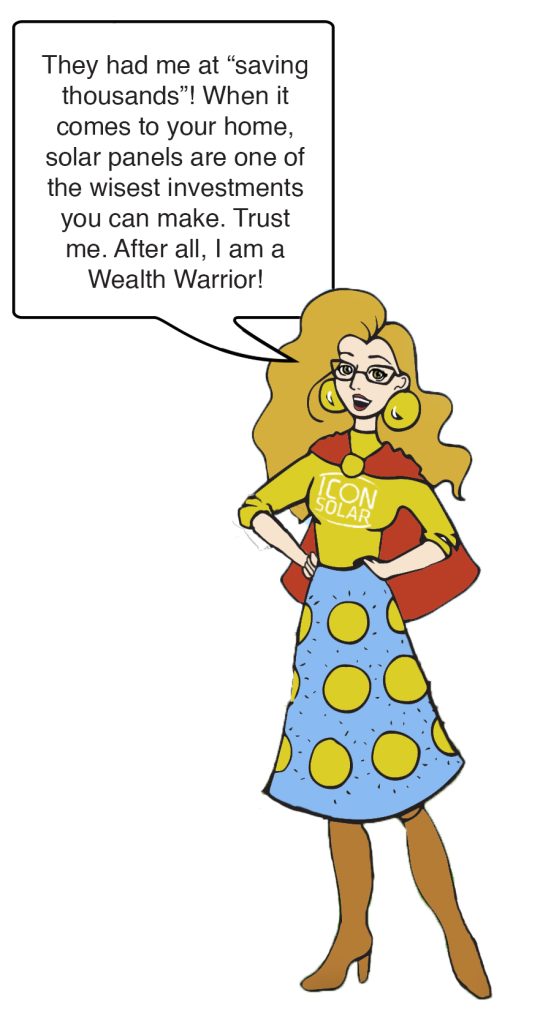 4) What are the other benefits of this investment?
Going solar is a big investment. Like any major home improvement, you'll want to know what bang you're getting for your buck. With solar panels, we're talking increased home value; sustainable clean energy production; reduced carbon footprint; increased energy independence; government and municipality rebates and credits; tens of thousands in savings and not to mention an electric bill that costs less than a cup of coffee. Whew, that's a lot!
5) How do I get started?
Because, after all that, how can you not want solar panels? The simple way to get started is to call Icon Solar! We're dedicated to walking each customer through their solar journey from start to finish.
We'll be at home improvement shows all year. Check out where we'll be and come see us!
Have questions or comments for us on this blog? Talk to us here.