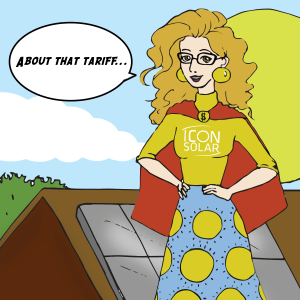 You probably heard the news that tariffs will now be imposed on imported solar equipment. The Section 201 tariffs will be in place at least for the next four years, starting at 30% and ending at 15%.
We at Icon Solar are disappointed in the recent tariff because it will increase the price of solar power. Even with the tariff in place, we believe our business will continue to grow and thrive because producing electricity with solar power is still much less expensive than purchasing that same electricity from the utility company.
As the public becomes more educated about the benefits of solar power, it will continue to increase in popularity and more homeowners will opt to produce their own electricity with solar to save money and help the environment.