"I don't think I'll live in my home long enough to see the benefit of solar panels." "I'm planning on moving within a few years, so I'm not sure solar panels are worth it."
These are common obstacles our customers face when thinking about investing in a home solar system. We're here to step you through it. Whether you stay in your home for the next year or 25 years, solar panels increase the value of your home and give you an instant return on investment while you live in your home. How? Let us tell you.
Think about home improvement. Sure, new cabinets and countertops in the kitchen may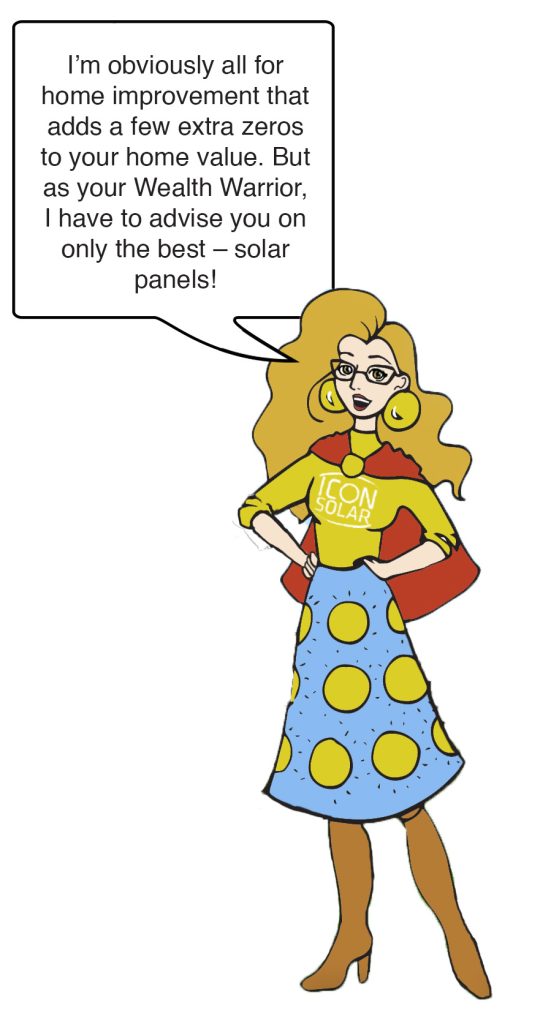 look lovely. Or re-surfacing the driveway may improve your curb appeal. But as soon as those improvements are made, they begin aging and losing value.  Now is the time to flip the idea of home improvement on its head. The one value-add to your home that you might be overlooking – the one that will immediately begin recouping your investment and begin making you money – is solar power.
When you think home improvement, it's typically with top-of-mind goals to make your home more functional, luxurious or efficient and to increase the value of your home. But to get any return on your investment, you have to leave the very home you just improved! Very few investments in home improvement pay for themselves with a correlating home value increase and make you wealthier while you still own your home. Solar panels do both of those things for you. A home solar system makes your electricity production more efficient, well, because it produces your energy! Plus, (the best part) solar is significantly less expensive than continually dishing out cash for increasing electric rates.
Solar also adds to your home value. For every dollar in energy bill savings (trust us, you'll be saving lots of dollars!), an additional $20 is added to your home value. What does this add up to? For each kilowatt (kW) of solar installed, home value increases an average of $5,911. The average home solar system is 5kW. That's $29,555!
Compare that to other home improvement options like a new front door or garage door that add under $2,000 in home value or a master suite upgrade or bathroom remodel that add about $10,000. And, don't forget the kicker, these all lose value over time. But cold hard cash in a pocket never grows old like Aunt Harriet's gold and avocado kitchen appliances did.
Obviously, smaller home improvements like replacing your front door or garage door cost less, giving you a higher return on investment above 90 percent. But only if you sell your home. Larger, more costly improvements, like a master suite upgrade or bathroom remodel tend to only yield about 60 percent return. Even a backup power generation system yields under 70 percent. But, again, you only gain a return from these types of home improvement if you sell your home.
Compare all of that to solar panels, which can return upwards of 100 percent, and then some. With a home solar system, you reap the benefits of little-to-no electric bill while you're still living in your home AND increased home value when you sell.
Plus, unlike any other type of home improvement that begins depreciating the moment you've finished it, the energy produced by solar panels can actually increase in value. As electric rates become more expensive, the power your solar panels generate increases in value.
So, next time you think home improvement, think solar panels and how they can make money for you regardless of how long you'll be in your home.
Have questions or comments for us on this blog? Talk to us here.