When most people think about solar, their minds probably don't think Ohio. The Midwest is notorious for its temperamental weather, and Ohio is no exception. Think 40 degrees one day and 75 the next. Many people often assume that since we live in an area where winter is harsh, we can't reap the rewards of solar panels.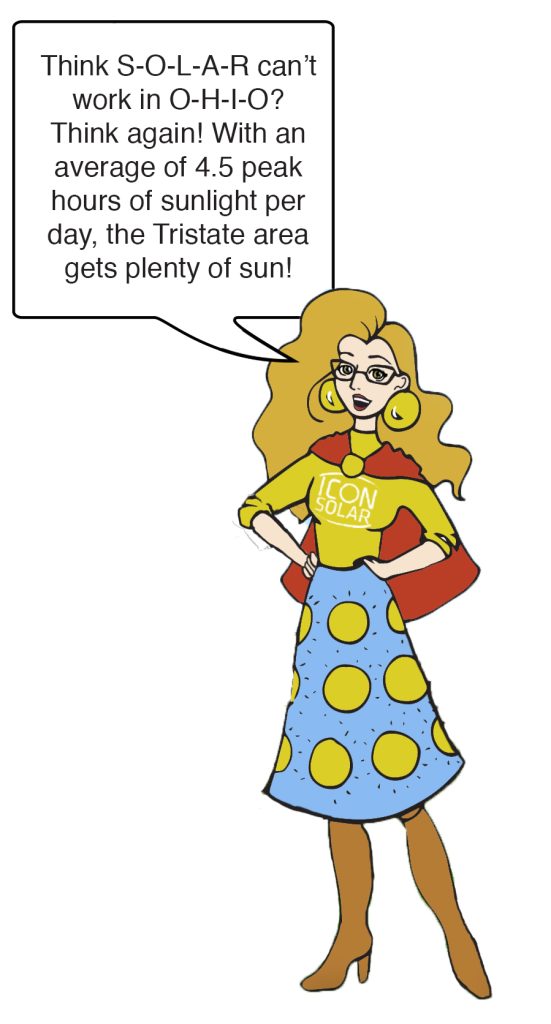 Luckily for you (and your wallet), Cincinnati and the Tristate area still get an average of between 4.2 and 4.7 peak hours of sun per day on an annual basis. Just to put that in perspective, Florida gets an average of 5 peak hours and California ranges from 5 to 5.7 hours per day. We give the Sunshine State a run for its money and its potential for solar power.
Plenty of folks in the area are already saving money with solar. The University of Cincinnati used our team of solar experts to install the first panels on their campus. Cryogenic Equipment and Services, headquartered in Cincinnati, worked with us to install a system of 474 panels on their facility. And of course, hundreds of residents have also chosen to save thousands of dollars and install residential panels through Icon Solar.
We're inspired by the steps our community has taken to welcome solar power to the region. Convinced that the good ol' Tristate can power your panels? Call us today for a free onsite quote!