Drew Boyd & Jacob Goldenberg recognized a pattern in innovation to create a systematic approach: Subtraction, Division, Multiplication, Task Unification and Attribute Dependency. They call it the Systematic Inventive Thinking, or SIT. We're doing a series of how solar technologies approach innovation. Let's take a look at how some of these innovation approaches (Task Unification and Attribute Dependency) apply to solar technologies in roadways across the world.
Highway Sounds Barriers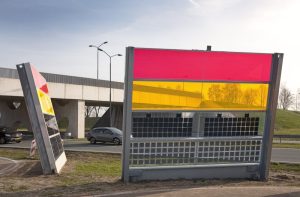 The solar systems used in the Netherlands were designed to the specific function of creating sound barriers along highways. And there's some great art on the walls, to boot! The solar panels sound barriers were tested with a variety of panels and designs, and eventually the ones being installed now were greenlit as the standard. This invention uses Task Unification where the array serves two purposes: (1) reducing sound disruption from the road and (2) producing electricity for the grid. The installations also use Multiplication by using the other side of the PV cells to capture twice as much light. This is called a bifacial solar cell. This beats putting up concrete barriers that don't do anything else but grow ivy on them and break apart!
Solar Roads
Solar roads—actual roads made from PV cells that you drive on—are becoming more common, even here in the United States. We look forward to seeing what other cities have in store!
Conway, Missouri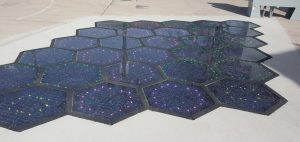 For a pilot project, the state of Missouri hired Solar Roadways to install hexagonal solar panels as a walkway at the state's welcome center in Conway. If successful, the same technology will be used for its stretch of Route 66's road. The PV roads are designed to have the same traction as pavement, so they shows the patterns of Task Unification by being solar panels and roads, including even having LED lights that also serve as painted road stripes. However, the panels are show Attribute Dependency! Depending on the temperature, the solar road can adapt. It can melt snow and ice immediately to prevent accidents or closures.
Normandy, France
The Normandy village of Tourouvre-au-Perche had the innovative company Colas install 1 km (.6 mi) of its Wattway solar road to power all of its street lights. As of now, it is still in its two-year trial, to see if it's worth installing more. "Colas said the panels have been covered with a resin containing fine sheets of silicon, making them tough enough to withstand all traffic, including HGVs." This concept once again uses Task Unification in using the solar panels as roadways that also provide electricity for the street lights that, in turn, shine light on the roadway.
The Ray, Georgia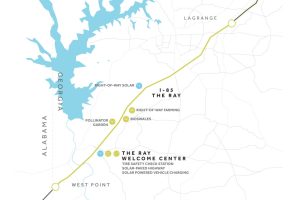 A 16-mile stretch of I-85 in southwest Georgia, known as The Ray, is testing how solar can revolutionize the Georgia infrastructure by making it sustainable. In fact, the stretch of road is going to be an ecosystem that serves both the natural and manmade worlds and is filled with Task Unification patterns. West Point's rest stop has an electric car charging station powered by solar panels, Colas installed their Wattway roadway, and the a tire pressure system was installed to improve road safety. Cars drive over the system, which measures your tires' air pressure, and drivers receive notifications by ticket or text about their tire pressure.
The project included other natural ways to green the roadway with patterns of Attribute Dependency. "The Ray works to use that land. Kernza wheat, whose deep roots help retain clean water and trap carbon, grows on the shoulder. Bioswales, drainage ditches filled with native Georgia vegetation, capture pollutants during rainstorms," says USNews. "A 7,000-square-foot pollinator garden provides a butterfly and honeybee habitat."  Eventually, the pollinator garden will use Task Unification to double as a solar field in October 2018, and the Ray will shortly begin its autonomous vehicle pilot program. Executive Director of The Ray, Allie Kelly tells Curbed, "We're at a tipping point in transportation. In five to ten years, we won't remember a time when we invested a dime in infrastructure spending for a road that only did one thing." Amazing!
Icon Solar will always bring you the best technology for the best price possible to give you maximum financial benefit from a solar system. We strive to stay up-to-date on the latest technologies, and we look forward to what innovations arise in the solar industry. Stay tuned to see what innovations are out there in our blog!